15.07.2010 | Social activism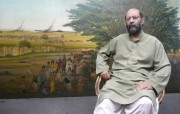 The unusual trajectory of a Pakistani artist
The Pakistani artist Jimmy Engineer depicts his country's social and political history in his paintings, and he experiences the social realities of Pakistan, by walking... Walking and talking with the people encountered, on the middle of the road. By David Knaute, Karachi (Pakistan)
Foto: © unknown
Jimmy Engineer's name catches attention. It is not his alias as an artist though, but the real name of his parents, whose ancestors were engineers. But Jimmy chose an entirely different path. He became a painter.
He came to fame in Pakistan in 1974 when he started to paint murals, as they came to him in his dreams. Jimmy wanted to illustrate the plight of the hundreds of thousands who had perished during the long journey of Partition. After that, he soon began to consider himself as a borderless citizen of the world. Born a Parsi, he also decided to adopt all faiths, be it Islam, Christianity or Buddhism. There was only one god after all.
In 1994, the life of Jimmy Engineer took a new turn. He found so much misery around him that he now wanted to become a social activist. For that, he would walk for causes. So he left Karachi on foot and walked all the way to the Khyber Pass at the border with Afghanistan. As his primary aim was to alleviate the suffering of children, he tried to convince the wealthy to build schools and hospitals for the poor. And along the many routes he followed, schools and hospitals are now growing The fact is that Jimmy's walks were not anonymous. He preferred being high-profile, so his message would be heard. He usually hired a van to follow as he walked in the middle of the road, ensuring that everyone knew what he was talking about. Jimmy walked 35 to 45 kilometres per day. However the distance did not count for him but rather the time spent talking to people. Whenever he came across a village, he would go directly to the bazaar and discuss with the people, telling them to do good things.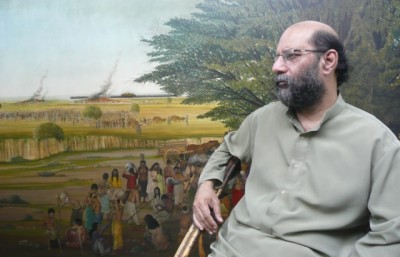 Jimmy remarks: 'People always asked me: "why are you walking"? I used to tell them: "I walk for you, people". When they realized I walked hundreds of kilometres to see them, they felt a lot of love'. Jimmy has to share the suffering of people to change their lives. Only this face-to-face encounter with reality makes faith in social change meaningful. Whenever he could, he went off the main roads, where few had ventured – even the dacoit infested areas in central Pakistan. He would walk in the dust, under the sun, with no toilet facilities, no comfort whatsoever, for eight or nine hours daily. Something really tiresome.
"You should walk to the sufferer, rather than the sufferer walk to you. This is my vision: we have to reach out to people. I think there should be mobile hospitals, schools wherever people cannot afford them. Basic services should be brought to people who cannot access them". Jimmy not only goes to the poor, he also brings them to places where they had never dreamt of going to. He thinks it is important that other people see them and share time with them.
Jimmy can also be provocative. He talks against politicians who go to rural areas by car or even by helicopter. According to him, they prefer talking about poverty during conferences rather than actually meeting the people they talk about. Meanwhile, Jimmy himself possesses the rare ability to communicate with people from all walks of life. His most famous walk, however, took place in 2001, when he went on foot to the Indian border in Wagah, wearing both Indian and Pakistani flags on his vest.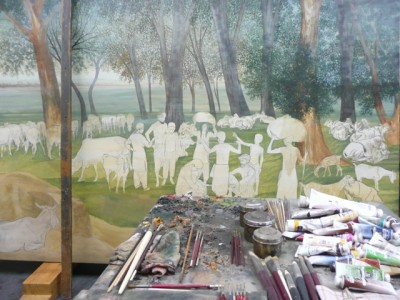 Today, Jimmy paints more than ever. The new themes that inspire him always aim to offer a better image of Pakistan, both domestically and internationally. For instance, he paints the symbols of his country's culture and history, such as the ancient site of Mohenjo-Daro or the Pakistani architectural heritage.
In sum, Jimmy Engineer is an artist, a social worker and incidentally a great walker. As such, he tries to balance the different dimensions of his life. He describes his identity in the following terms: "I am three persons in one: as an artist, I like travelling to imaginary places; as a peace lover, I am very peaceful of course… and as a human rights activist, I can, if need arises, become slightly aggressive!". All ingredients required to pave the way for a better world.
————————
International Summer School of Arts and Sciences for Sustainability in Social Transformation
This article is part of a series of articles published in preparation for the 1st International Summer School of Arts and Sciences for Sustainability in Social Transformation (ASSiST ) that will take place in Gabrovo, Bulgaria, from August 21st to 27th 2010. The theme of the 1st edition ASSiST is: "Walking and Places: Building Transformations."

Nach oben
Zusätzliche Informationen
Verwandte Artikel
Themen