09.12.2009 | UN-Climate Change Conference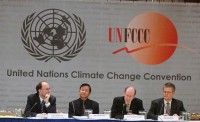 Culture and the mirrors of climate corruption
Art and culture are said to be the mirrors of the world as a whole. What kind of mirrors are we looking to be? Are we all becoming Hopenhageners? A few words from Copenhagen in a state of growing buzz. By Oleg Koefoed (Cultura21 Nordic), Copenhagen.
Foto: © UNFCCC
After two intensive days of conference at Culture Futures, the time has come to talking about city development, sustainability and arts&culture. I am listening to the mayor of the technical and environmental department of C(H)openhagen, Klaus Bondam. (in fact, he will only be the mayor for another 3 weeks, but don't tell anyone, he might still play an important part for this project and for all of us..)
Before passing the word to world famous architects Jan Gehl, Bondam spoke of bikes at quite some length, which is a bit of a special project for him and has been for the last 3 years or so of his term. As Bondam mentions, about 40 percent of all Copenhageners take their bikes to work every day (this should of course be 80 percent, but still we are a bit proud..), and about 30 percent of these have a 1m wide "cargo-bike", creating new conditions of technical, practical, parking-wise, mental, cultural.. issues for the city and its inhabitants.
Bondam spoke, which was what triggered me, of "culture as the mirror of society" (quoting Hamlet although he is not a "Hamlet type", as he said). Very well, but what kind of mirror do we want to be? Do we want to mirror Hopenhagen, or even more seriously: what happens when we look at Hopenhagen and its likes as precisely that, a mirror of the relation between art, money and power (and, oh yes, sustainability, ecology, climate issues etc)? Do we like what we see? Are we happy to be mirrored as a population of more or less dumb spectators willing to smile and say thank you if we are invited to a free concert and a bit of drinks (off the new plant fibre bottles of course..)?
I think what we are catching in glimpses these days, and which I hope to be able to show even more in the 9 days to come, is that we as cultural agents have a role to play in re-phrasing what that "mirroring" could be. What every parent knows, is that the child who sees him- or herself in the mirror for the first time, not only sees its own face and hands moving, but sees something else: a world with someone in it, this other being similar to itself, yet different. Alterity in motion, an other who is also a "me" or an "us", in a world seen in a new and different way. And in this other world, with this alterity in it, grows the idea that "this could be us", we could be that one in the mirror, we might be part of a movement into the imaginary of another world. This power is, of course, a huge responsibility, a fact which has also been brought up over the last days.
But even more so, it could also serve to remind us that we are creating not only mirrors, but palimpsests, those images which fold over one another to create a new, composed, complex reality, all visible at the same time, inseparable from one another, yet distinct from each other. One such palimpsest is Hopenhagen, another is Culture Futures, and many more are at work here in Sustensistan (oh sorry, Copenhagen) these days. So we have two simple tasks before us: one is to make more than the most nosiy and blatantly obvious palimpsests present for the people of this city and others. Another is to try to train/teach/learn to read them, to think through them, to accept their complexity. If we do not manage to do this, we will be left only with the easy variant, which reduces all complexity to far too simple messages and buzzwords like "HOPE", a term which seems to be rapidly losing any significance it might once have had.

Nach oben
Zusätzliche Informationen
Verwandte Artikel
Themen